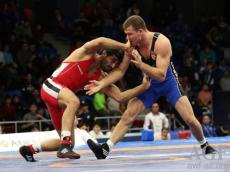 By Azernews
By Laman Ismayilova
Azerbaijani wrestlers will compete in World Championships to be held in Budapest, Hungary on December 10-11.
Azerbaijan pins much hope on six wrestlers, including two women.
World championships in all 24 style and weight categories are held in non-Olympic years.
The addition of an Olympic year world championship for weight classes not included at the Olympic Games will give participants of that weight an end-of-the-year title opportunity.
"We are pleased that the Hungarian Wrestling Federation has taken on the responsibility of this important championship," said United World Wrestling president Nenad Lalovic.
"This tournament will give more wrestlers the chance to seek a world title, even in an Olympic year. Our athletes work hard year round for their sport and we are pleased to give them an opportunity for more medals," he added.
The world championships will be competed in women's wrestling (55kg, 60kg), freestyle (61kg, 70kg) and Greco-Roman (71kg, 80kg).
Wrestling remains the most popular sport in the county and is overseen by the National Wrestling Federation, which was established in 1993.
The Rio Games opened a new page in wrestling for Azerbaijan. The country became one of only two nations ever to increase the number of medals achieved in five consecutive Games.
Azerbaijan left Rio de Janeiro with a total of 18 medals, signifying the nation's most successful Olympic outcome in its independent history. Nine of these medals were distributed to the Azerbaijani team in wrestling, three in taekwondo for the first time, and two each in boxing, sprint canoeing, and judo.