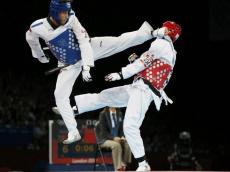 By Azernews
By Laman Ismayilova
Azerbaijan has named a squad for the WTF World Taekwondo Grand Prix Final to be held at Serhedci Olympic Sports Complex in Baku on December 9-10.
The national team includes Roman Samodurov (58kg), Aykhan Taghizade (68kg), Radik Isayev (+80kg), Milad Beigi Harchegani (80kg), Patimat Abakarova (49kg), Yaprak Erish (57kg) and Farida Azizova (67kg), Azertac reported.
More than 100 top Olympic-ranked athletes, fighting in four female and four male weight categories, will struggle to earn ranking points in advance of the 2017 fighting season.
Baku's Badamdar Hotel will host the World Taekwondo Federation Gala Awards on December 11.
The World Taekwondo Team Championships will take place on December 12-13, also at the Sarhadchi Olympic Sports Complex.
Eight national teams per gender division – i.e. eight male and eight female teams – are competing for honors.
Widely seen as the most exciting format in sport taekwondo, the five-person teams, which include an additional substitute, do battle in an ultra fast-paced, action-packed tag-team format.
In a world first, mixed-gender teams will take to the field of play in an inaugural event, thus giving the championships three winning teams – one female, one male and one mixed.
The week of events will be preceded, on December 8, with an all-day meeting of the WTF Athletes' Committee. The agenda includes discussions with members of the WTF Technical Committee.
Taekwondo is one of the most popular sports in Azerbaijan. The National Taekwondo Federation has trained many prominent athletes since its founding in 1992. Many of those athletes now enjoy international recognition.
The Federation's training facility houses new, state-of-the-art training equipment and has a proud history of bringing up more than 500 black belt recipients and athletes.