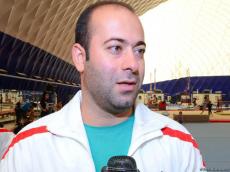 By 
 Trend
Iran wants to achieve the same high level in acrobatic gymnastics as Azerbaijan did, Secretary of Acrobatics Committee of Iran's Gymnastics Federation Karim Mohammadzadeh told Trend Nov. 26.
He said that the Iranian delegation consisting of coaches and referees in acrobatics, has arrived in Baku for the first time to adopt Azerbaijan's experience.
Iran would like to redevelop acrobatics from scratch, Mohammadzadeh said.
He thanked Azerbaijan Gymnastics Federation for such an opportunity.
Baku has great conditions for the development of gymnastics, Mohammadzadeh said, adding that great progress was made in Azerbaijan in a short period of time.