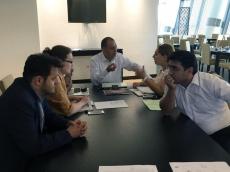 By Azernews
By Laman Ismayilova
Issues related to the opening and closing ceremonies of the 42nd World Chess Olympiad were largely discussed in a meeting in Baku.
The meeting, attended by the director of the Baku Chess Olympiad Operating Committee, Mahir Mammedov, representatives of different departments of the Committee, the director of the National Gymnastics Arena, Magsud Farzullayev, and managers of "Amapola" company, reviewed the script of the ceremonies.
Then the sides exchanged views on security and transportation issues and gave relevant instructions.
A number of suggestions were made regarding the accommodation of visitors and chess players, as well as the work of the media.
The Operating Committee's transport department will facilitate timely and comfortable arrival of some 4,000 spectators and officials at the Gymnastics Arena.
The World Chess Olympiad reports that the opening and closing ceremonies of the 42nd World Chess Olympiad will be held at the National Gymnastics Arena. The opening ceremony will start at 19:00 on 1 September.
The first World Chess Olympiad in Azerbaijan will be arranged at the Baku Crystal Hall, a multipurpose sports and concert arena. 
On the day of the Olympic Games, the Congress of the World Chess Federation (FIDE) will also be held in Baku.
The chess tournament will host about 2,000 chess masters from 175 countries. The number of guests is expected to reach up to 3,000.
The budget for the Olympiad is 13.3 million euros. Some 6.8 million euros are set aside for first-class accommodation for the players and delegates. Another 1 will go to the FIDE Commission for World Championships & Olympiads and intellectual rights.