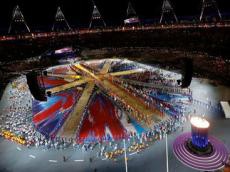 The audience at the Olympics closing ceremony were treated to a taste of Britain's comedy heritage tonight when Monty Python star Eric Idle appeared onstage.
The actor led the 80,000-strong crowd through a singalong rendition of Always Look on the Bright Side of Life, while a bizarre troupe of dancers performed around him.
They included jigging Morris Dancers, a choir of rugby players and skating nuns and when the song finished, a human cannonball was launched across the stadium.
He was followed by a performance by pop icons Queen, including vocals from Jessie J and from beyond the grave, by the band's late singer Freddie Mercury.
The best of Britain's past and present music scene partied with volunteers, athletes and the world as London 2012 came to a breathtaking close tonight.
The Spice Girls, Madness, Queen, Take That and Annie Lennox took to the stage in a symphony of British music.
Aimed at celebrating one of Britain's strongest cultural exports over the last 50 years, the musical extravaganza marked the end of the country's most successful Games in more than a century.
Evoking images of the past from Winston Churchill and Edward Elgar, through the psychedelic 60s to the highs and lows of the Games, the closing ceremony culminated with a glimpse of the carnival that awaits in Rio in four years' time.
A galaxy of stars including the Pet Shop Boys, Kaiser Chiefs, George Michael, Tinie Tempah and Jessie J, along with faces such as Kate Moss, Russell Brand, Julian Lloyd Webber, Naomi Campbell and Darcey Bussell built up to the show's climax and The Who.
  As the day drew to a close, The Kinks' frontman Ray Davies arrived in a black cab singing his 1960s hit Waterloo Sunset.
As a funfair scene emerged, a shimmering river of 270 children from 10 schools in the six east London host boroughs weaved its way through the melee to Sande's reprise of Read All About It.
As many of the 10,000 athletes from the 204 nations involved in the Games flooded into the stadium, filling the areas between the ramped stage, they joined hands during Elbow's performance of Open Arms and One Day Like This.Huge cheers greeted British sailor Ben Ainslie as he carried the Union flag into the stadium.
'Wow. This is it... The end,' Ainslie tweeted.
'We should all be very proud to have held the greatest Olympics in modern times. Huge thanks to everyone involved.
Following the flag-bearers, thousands of athletes walked through the spectators, medals round their necks, high-fiving fans and waving to the cameras.

/dailymail.co.uk/