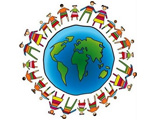 On the 1st of June representatives of HOMS (Heads of Missions Spouses) visited the Mushvig Day Care Centre for Children with Disabilities where together with Mushvig's children they celebrated the International Children's Day. The children prepared a little performance for the guests.
Mushvig Centre is located in Karadagh district and is unique of such a kind Centres in Azerbaijan. Mushvig Centre is a private day-care centre which was founded by Mrs. Valida Abbasova. It has been working for 8 years already.
"It is our second visit to Mushvig Centre, Egle Kudzmaniene, the spouse of the Lithuanian Ambassador said. "The first visit was organized for us by UNICEF and we came with donations for the Centre. Mr. Mark Hereward, the Head of UNICEF in Azerbaijan, informed us about the needs of this Centre. We are happy that we could donate necessary supplies that are offered to parents – either those who send their children to the Centre, or those who keep their child at home. Today we are here to applaud for children who prepared a fantastic program for us", added Mrs. Egle Kudzmaniene.
"I am really impressed how open children of Mushvig Centre are. Their program is the best proof that the staff is really professional and hard working. Today kids were dancing, singing and performing. All together we had a great time" noted Mrs. Chianghua Hereward, the spouse of the Head of UNICEF.
Mushvig Day Care Centre for Children with Disabilities also offers various support services and facilities which enable a child to stay at home. Since the Centre was opened, no child with disabilities from that district has been institutionalized. The Director of Mushvig Centre Mrs. Valida Abbasova has also successfully advocated for the local school to accept disabled students, she visits families in the community who have disabled children to give them support.
The biggest and permanent sponsor of Mushvig Centre is a Cement factory near Karadagh. It covers costs for food and electricity and always hears the needs of the Centre.
/Today.Az/