President of Azerbaijan Ilham Aliyev attended a ceremony to mark the 60th anniversary of Oil Rocks on Nov. 5.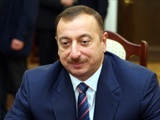 Azerbaijan`s President Ilham Aliyev has said the country would increase efforts towards strengthening its oil and gas potential.
Speaking to a ceremony to mark the 60th anniversary of the Oil Rocks, a unique town laying on piles of the Caspian Sea, the President described inauguration of a new gas compressor station here as "an important step toward strengthening and modernizing our oil and gas potential".
The President praised construction and development works in the Oil Rocks.
"I`m very pleased with the pace of construction and improvement activities here. They include improving living conditions of oilmen among others. It is the Azerbaijani oilmen who for the first time on the global scale extracted oil from the sea."
"The Oil Rocks is the essential value for the Azerbaijani people, for the Azerbaijani government," added the President.
"The Azerbaijani oilmen have always been held in great respect. And the government has always highly appreciated them and will continue doing so. It is very important that living conditions and social concerns of oilmen are always in the focus of attention. and the development of the Oil Rocks proves this."

---------------

Nov. 5
14:29
The Head of State was warmly welcomed by oil workers.
First, the President visited a monument to national leader Heydar Aliyev and put flowers at it.
The President also became familiar with the Heydar Aliyev museum.
The Head of State attended an opening ceremony of a park for oil workers and gas compressor station.
President Ilham Aliyev also made a speech and congratulated oil workers on the 60th anniversary of Oil Rocks and wished them successes.
He presented a group of oil workers with orders and medals.
/AzerTaj/