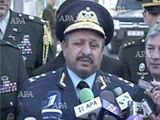 14:15
Azerbaijan Defense Ministry's Air Force and Air Defense Command General-Lieutenant Rail Rzayev was shot in 500 m from his house.
According to APA he was shot while getting into a car near his house at Inshaatchilar Avenue 533. His driver was in the car when the incident happened. The driver did not suffer. It is not clear yet what gun was used during the incident. The law-enforcement officers are investigating the site. Rzayev's body is in the Defense Ministry's Education Training Center now.
APA first reported about the Rzayev's assassination. Rzayev arrived in the Central Clinic Hospital of the Defense Ministry on Wednesday morning with a gunshot wound in his head. The doctors could not save his life. Committer, conditions and reasons of the incident are still unknown.

--------------
13:17
According to Day.Az, the press service for the Interior Ministry of Azerbaijan confirming the fact of murder of commander of the air force and air defense of the Defense Ministry of Azerbaijan Rail Rzayev.
Sources from the Ministry report that the murder was committed this morning. The details of the murder are not specified yet.
A criminal proceeding was instituted into the case.
By unchecked information, Rzayev was killed while leaving the house.
-----------
11:48
Lieutenant General Rail Rzayev, Commander-in-Chief of the Air Forces and the Aircraft Defense Forces was shot in the head, APA reports.
He has been today taken to Central Clinic Hospital, but the doctors could not save his life. The reason of the incident is not yet known.
/APA/