Azerbaijan's President Ilham Aliyev today visited Guba, a northern region of Azerbaijan.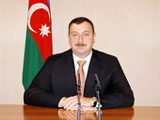 APA correspondent accompanying the President reports that Ilham Aliyev attended inaugural ceremony of 57km-long Ispik-Khinalig road worth AZN 14mn.
There was no road joining the center of Guba and the village of Khinalig.
Ilham Aliyev spoke of the history of this village and said it is 4 000 year old. He promised that problems of the village with water and telephone will be solved and a new school will be built in the village.
President visited some houses and concerned himself with the problems of the families. Population of Khinalig where 2000 people live is an ethnic group.
Aliyev also attended inaugural ceremony of the new building constructed for Khudat Border Guards.
President then visited the village of Gachresh and opened a newly-built school there.
The Heydar Aliyev Foundation-funded three-storied school meets modern standards.