Azeri sportsmen led by Oktay Mehdiyev, Vice President of the Kickboxing and Muay Thai Federation of Azerbaijan achieved brilliant results at the World Kickboxing Championship, which brought together 700 sportsmen of 35 countries of world in Loutraki /Greece/.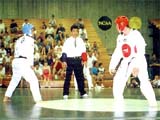 In seniors' section, Elnur Salamov ( 56,5kg), Eduard Mammadov ( 60kg), Ramil Hadirov ( 67kg), Nahid Asadov ( 70kg), Kamil Sharifov ( 72,5kg), Ehram Majidov ( 82kg), Zaur Alakbarov ( over 88kg), Hafiz Makhshaliyev (88kg) mounted the highest step on the podium.
In juniors' section, Jamal Mammadov ( 40kg), Sarkhan Madatov ( 50kg), Farid Pashazade ( over 75 kg, low-kick), Azeri Pashazade ( over 75 kg, full-contact) snatched gold as well.
Azeri sportsmen, who won also 9 silver and 8 bronze medals ranked 1st ( low-kick) and 2nd ( full-contact) in the team event.
Azer Gasanov, President of Azerbaijan Association of Martial Arts Federations became world winner in semi-contact among the veterans, AzerTAg reports.