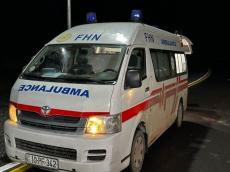 The central government of Azerbaijan sent medical aid to Khankendi, Azernews reports.
A medical vehicle equipped with medicine stock, first aid kits and supplies was set off on the Aghdam-Asgaran-Khankendi road.
Aid is intended for those injured in the explosion of a gasoline tanker in the city.
It should be noted that an explosion took place at a gas station near Khankendi at night. As a result of the explosion of the gas tank, several people died and injured.