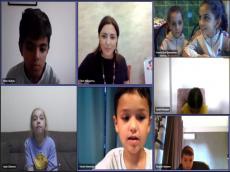 Rena Murshud
Since the new academic year, the "Mother Tongue – Azerbaijani School" project has begun distance learning, Azernews reports.
From the beginning of registration to the present time, about 600 of our compatriots from 29 different countries have submitted applications to participate in the project. After analyzing the applications, more than 300 participants in the age category of 6-18 years, 35 groups in total, began studying their native language.
The groups were organized taking into account the age, language level and time zone of the project participants. The educational program of the project was prepared based on topics that included information about the history, literature, geography, and culture of our country. Classes are held twice a week on the Microsoft Teams platform. The program will cover the 2023-2024 academic year with two quarters.
In the near future, video lessons will be posted on the project's social media accounts and on the online learning platform for those who cannot attend lessons due to time and age category.
It should be noted that "Mother Tongue – Azerbaijani School" is a pilot project providing distance learning of the native language for our compatriots living abroad, organized by the Association of Young Teachers of Azerbaijan.