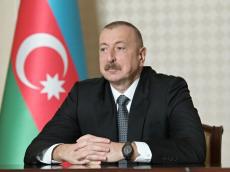 "Less than a year after the reconstruction of the village of Talish began, 20 families have already returned to Talish village and a total of 180 will return," said President Ilham Aliyev as he addressed the people of Azerbaijan on the occasion of the Novruz holiday in the Talish village of the Tartar district.
"In less than a year, about 180 families will live in Talish village. All opportunities have been created here for these families," the head of state noted.
"We are a nation of builders. Unlike Armenia, we build and create in our own territory," the President of Azerbaijan added.