Jewelry is smuggled to Azerbaijan from Turkey and the United Arab Emirates mainly.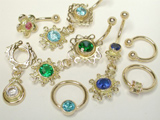 APA was informed by chairman of the Main Office for Smuggling and Breach of Customs Rules of State Customs Committee (SCC) Guloglan Muradov.
He stated that smuggling of more than 100 kg of jewelry to the country was prevented in the past several years. According to him, the SCC prevented the smuggling of faked-up mobile phones to the country and took relevant measures on this.
G.Muradov stated that, the SCC took all possible measures in the frame of its authorities for prevention of import of unqualified products to the country. The laboratory of the SCC is functioning for revealing such products.
The smuggling of faked-up food products and medications was prevented as the result of the measures taken.