"Amendment # 2 to the Agreement Letter on the aid to the control on drugs and law-enforcement activity between the Government of the Azerbaijan republic and Government of the United States of America" intending allocation of the respective grant was signed on May 23, 2005.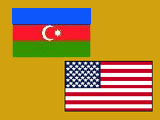 The minister of foreign affairs Elmar Mammadyarov on behalf of the Azerbaijani government and USA extraordinary and plenipotentiary ambassador in our country Reno Harnish signed the Agreement Letter intending allocation of additional means according to the mentioned agreement yesterday.
According to the information given to APA from the Press Center of the Ministry of Foreign Affairs, means intended in the agreement letter were directed to implementation of necessary measures for increasing professionalism of law-enforcement organs in control on drugs and law-enforcement activity.