Very serious investigational operations are carried out in connection with the murder of the editor-in-chief of the "Monitor" journal Elmar Huseynov.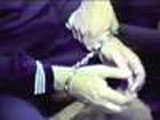 This was informed by the minister of national security Eldar Mahmudov in his talk with journalists: "Tahir Khubanov and Teymuraz Aliyev are searched at present. When representatives of special service organs of Georgia were in Baku, some questions were discussed. We will detain those criminals. Our Georgian colleagues declared that they will create any condition for us to arrest them. Measures conducted by us show that we are in the right way that is this crime was committed by those persons. I think that we will achieve positive results". The minister informed that he can not announce names of persons drawn as suspicious persons into the process because this is the secret of the investigation.
According to the words of E.Mahmudov expressing his assurance that orange tents brought to Azerbaijan will not affect the stability in the country in any form, they will not allow some forces to hold actions and create instability in the republic on the eve of parliamentary elections. The minister reminding that work for investigating new facts in connection with human trafficking are continued in a planned form said that no operations were carried out for revealing radical Wahhabis after the operations conducted in Novkhani. According to his words, although 7 radical Wahhabis arrested in Novkhani trying to commit some terror actions in Azerbaijan, the ministry prevented it in time: "They rented a summer-house in Novkhani. A lot of weapons and military equipments, hand-made bombs, schemes, about 10 explosive substances were revealed there and confiscated".
E.Mahmudov said that the investigation is continued at present and that is why he does not want to announce more information: "Maybe there are other criminals around them. If we give an explanation, they can avoid the investigation".
/APA/