The president Ilham Aliyev signed a decree yesterday on giving the presidential grant to students who scored highest results on specialty groups in entrance examinations in the 2005-2006 academic year and were admitted to higher schools.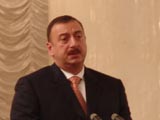 The head of the state issued this decree in accordance with the decree "On founding the Presidential grant for students of higher schools of the Azerbaijan Republic".
Generally, the presidential grant will be given to 100 students according to the president's decree.
/APA/