The ULTRA Company creates wireless Internet zones in 18 state universities of our republic together with the INTEL Corporation (USA) for the purpose of providing all state universities with wireless Internet zones in the frame of the "Wireless Universities" Programme.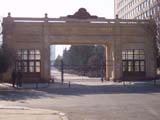 According to the information given to APA from the press-service of the Ministry of Communication and Information Technologies, the programme will be completed till the end of the current year.
Public free of charge wireless Internet zones will be created in different places of the country and students will be able to use these Internet zones crated in universities free of charge in the frame of the programme of the ULTRA Company.
It should be noted that the Baku State University and Azerbaijan State Economic University were supplied with wireless Internet zones at the present time.