The country chess championship among clubs in Merida, Spain is over.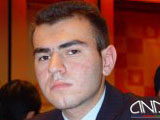 Club "Eborajadrez" in which Azerbaijani Grand Masters Teymur Rajabov and Shahriyar Mammadyarov also participated won the silver medals of the championship.
"Eborajadrez" met with "Gros Khake Taldea" in the semifinal. T.Rajabov and Boris Gelfand ended in draw in the first board in the meeting when the team of our compatriots won by ratio 3.5:2.5.S.Mammadyarov played in the second board and won Christian Bauer.
The meeting with "Reverte-Albox-Costa Almeria" club ended by ration 3:3.T.Rajabov shred the scores with Aleksey Dreyev and S.Mammadyarov with Vladimir Malakhov. In general, all the board ended equally in the final meeting. Though the meting ended in draw "Reverte-Albox-Costa Almeria"club won the championship for additional points. Our compatriots won silver medals in the staff of "Eborajadrez".