135 citizens of Azerbaijan appealed to the European Court on Human Rights to refuse the citizenship of the Azerbaijan Republic.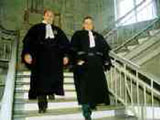 The director of the Centre for Strategic Researches Against the International Terrorism "Bank Information" Rovshan Novruzogli told Trend about it.
The main reasons for appeals, related to refusal of the citizenship are the absence of the just court system in Azerbaijan and a number of other violations of citizens' rights.
The head of the Baku Information Bureau of the Council of Europe Ilgar Ibragimli did not report on specific data about complaints to the European Court on Human Rights in regard to the refusal of the citizenship. «Publicizing of specific grounds for complaints is considered to be the interference into the work of the European Court on Human Rights", Ibragimli said.