The minister of education Misir Mardanov held a press-conference yesterday in connection with beginning of the new academic year.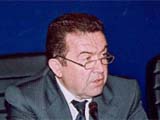 The minister informed that 12 new schools having 2580 seats, 143 classrooms having 2860 seats constricted neat 24 schools will be put into operation in this academic year. Generally, 201 new schools were constructed during last 7 years. It was intended to put into operation 132 new schools in initiative of the Heydar Aliyev Fund in those places of Azerbaijan where it is mostly needed this year. 39 schools were capitally repaired in Baku at the expense of the credit allocated by the Islamic Development Bank.
M.Mardanov informed that 150 of 182 text-books were already renewed. All of them were created by Azerbaijani authors. All pupils of 1to11th classes will get text-books free of charge this year. As in previous years, our compatriots studying in Azerbaijani schools situated in Russia, Georgia and republics of Middle Asia will obtain text-books free of charge this year.
According to the words of the minister, the newness mostly gladdening him this year is preparation of the "Azbuka" ("ABC-book") text-book for pupils of the 1st class to study in Azerbaijani schools where education is conducted in Russian language. This text-book was prepared by Azerbaijani authors for the first time. Pupils of the 5th class of all secondary schools and pupils of 1-11th classes of schools in which education is conducted in 1 session will go to school 5 days a week since this year. This newness applied last year was applied to pupils of 1-4th classes for the first time.
M.Mardanov reminded that grants of students were increased 2,5 times recently and expressed his hope that wages of teachers will also be increased in the near future. He also noted that the World Bank wants the number of teachers to be reduced in Azerbaijan. 1 teacher falls to share of each 10 pupils at the present time, and WB wants this ratio to be 1 to 12. As to the opinion of the minister saying that he does not support conducting of attestation of teachers with the existing mechanism, this work should be conducted by school directors.
And it is not seemed to be real that they will do it in a fair manner: "I am not against real attestation. Attestation will be carried out by school directors. That is why I hesitate in connection with attestation".