Schoolchildren of Khojali, Shusha and Khojavend collected donations for memorial complex to the victims of 11 September in front of Pentagon.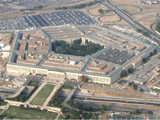 The collected donations will be presented to the USA ambassador to Azerbaijan Reno Harnish in the ceremony to be held in front of the statute "Mother's call" on 9 September.
APA was informed by head of executive power of Shusha region, member of State Committee on prisoners of war, missed citizens and hostages Nizami Bahmanov. N.Bahmanov informed that, the above mentioned memorial complex will be erected by the account of the donations: "Internet and mass media have informed about it. Everyone who protests to terror can make donations. Azerbaijani schoolchildren who became the victims of terrorism joined this campaign".
The head of the EP of Shusha stated that, the schoolchildren will make speeches on "We say no to terrorism" and recite poems in the ceremony.