Catholic Church will be established in Baku on 11 September.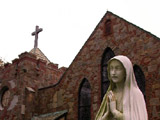 APA was informed by head of the church Yan Chapla that, Cardinal Cresense Sepe from Vatican and his assistant, nuncio of Vatican for the South Caucasus Claudio Gujerotti will come to Baku from Tbilisi to attend the foundation ceremony. The cardinal's visit will start on 10 September; the guest will meet with refuges after visiting the Honorary Alley and Martyrs' Alley. The cardinal will hold a mass, meet the members of the church on Sunday and attend the foundation ceremony of the Catholic Church located in the intersecting of Nobel Avenue and Orujov Street at 17.00 in the evening.
Blessing will be given to the asylum built for the helpless people in need in Ahmadli settlement by the account of the allocation of the church later on. According to Yan Chapla, Cardinal Cresense Sepe will be received by President Ilham Aliyev and conduct meetings with the heads of the religious confessions functioning in Azerbaijan.