"The investigation related to death of Department chief of Main Criminal Search Office of Ministry of Internal Affairs, police –Colonel Mazahir Aliyev is on, there is no need to create big sensation in relation with this event."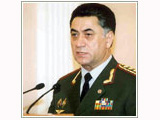 Minister of internal affairs Ramil Usubov has informed to journalists.
The minister informed that, the late has written a letter about the reason of his death. Everything is indicated there: "The investigation is on, everything will be known after the investigation ended." The minister also said of the giving of identity cards till the November 1. He has stated that the heads of passport department of Police Offices delaying the giving of the identity cards will be punished.
/APA/