A citizen of Azerbaijan being engaged in commerce in the Matveyevsk market of Moscow was attacked.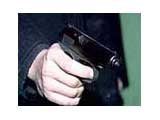 An unknown person approached to our compatriot in the evening scared him with a gun and demanded his money. After our compatriot refused giving his money to him, the unknown person shot from the pistol and disappeared. The name of the Azerbaijanian shot down in the capital of Russia is not announced. The health condition of our compatriot taken to a hospital under hard condition is sufficient.
At the same time, he gave a primary testimony to the investigation in connection with the accident. According to his words, the person who shot him down was Slavic in appearance of 25-30 years old. A criminal case was raised in connection with the fact, investigation is held.
/APA/