About 30 persons convicted in vahabbism were arrested in the result of the operation conducted by the National Security Ministry (NSM) in Novkhani settlement from 12 to 13 July.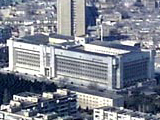 This was informed to APA by the father of arrested Emil Novruzov Nazim Novruzov.
He informed that his son was arrested in Novkhani on July 14: "7 persons were arrested in the result of the first operation conducted by NSM in the settlement. Skirmishing happened at that time and weapon was taken from the members of the group. NSM arrested some more persons in Novkhani on July 13-14. My son was collared when he was having a rest with his friends in the cottage on July 14. The persons by name Tarlan and Faig and one pupil were also arrested together with my son. The operation was conducted in one of the mosques some days ago and 11 more persons were collared. They are kept in the jail of NSM. All of them are called vahabbis and terrorists. My son gave testimony 3 times. Emil informed that he only performed prayer in the cottage, read a book and watched TV. They can not prove that any of the arrested persons committed crime. At the same time, they do not release them".
N.Novruzov said that imprisonment measure was taken on the arrested persons during 3 months. It was impossible to learn the attitude to the question from NSM. We should note that the public relations department of NSM attempted to refute the information yesterday.
APA insisting on its news once again informs that the information was made more exact from several sources in NSM. According to the information, NSM conducted the operation in one of the mosques for arresting vahabbis and some mosques were already taken under the control in connection with this question.
By the way, the chairman of the State Committee on Work with Religious Structures Rafig Aliyev informed in his explanation to the journalists today that the policy against the state and its administration is pursued in the mosques at present: "This case must be eliminated urgently. The special service organs of the state already control the situation. But this is not enough. The state knows the number of such mosques. Necessary measures are realized against them".
So, R.Aliyev confirmed once again the information spread by APA on mosques being taken under the control. Today APA spread the photo of one of the persons convicted in vahabbism and arrested by NSM. We will deal with the subject.
/APA/