$600,000 was allotted to the implementation of the 'Development program on provision of secondary school system of Azerbaijan with pedagogic personnel for 2005-2009' in 2005.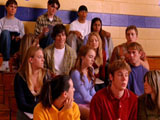 In accordance with the program, 1308 pedagogues will be provided with concrete job in the next academic year, the Azerbaijani Education Ministry told Trend.
The process will touch upon people, who started to work at the state order, and the interested pedagogues. The program envisages full provision of schools with teacher personnel, regulation of relations between teachers and pupils, retraining of the unspecialized personnel, opening of 15,000 new jobs, arrangement of conditions for young personnel in the regions and solution of their problems. The program also concerns measures enhancing the younger personnel, who will be dispatched distant village schools.
$5.4m will be allocated for the 5-year program, the Ministry said.