There is no criminal group in Baku, which could evolve problem for the police bodies, Maherram Aliyev, the chief of the Baku Central Police Department, told Trend.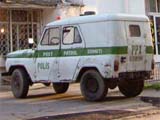 According to Aliyev, the investigation of crimes is under the control of the Baku Central Police Department and the majority of them have been revealed.
«Some crimes are still to be revealed and the relevant work. The fact of recent robbery of an Iranian citizen's $45,000 is among them. The measures for revealing the crime are underway. Besides, there were fixed several facts of robbery of Georgia citizen's apartments. Most criminal have been detained. In general, the activities of Baku police can be regarded as satisfactory," Aliyev underlined.