As a result of operation-searching measures implemented by the National Security Ministry (NSM), Criminal group attempting to organize armed attack to collector car of Defense Ministry taking cash to the military unit # N of Defense Ministry was rendered harmless.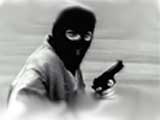 The NSM and Prosecutor General's Office made joint statement about it. According to the information given to APA from the center with public relations, it turned out that, former head of food service of the military unit # N Baku resident Mammedov Eldaniz (born in1979) established relations with his friend Baku resident Talibzade Ruslan (born in 1981) to organize armed attack to collector car taking cash to the military unit during the period when Mammedov Eldaniz served.
They bought submachine-gun marked "Kalashnikov" and pistol marked "TT" and necessary equipment for masking on this purpose.
As the result of the operation-searching measures , other members of the criminal group, head of financial service of that military unit resident of Ganja Bayramov Shahin (born in 1980) , Misirkhanov Aftandil (born in 1980) living in the village Guzanli of Agdam region and working  as an accountant in the local municipality were disclosed.
R.Talibzade and A.Misirkhanov couldn't commit the planned crime on the account of some reasons, decided to wait for suitable condition for the attack. Besides, the members of the criminal group planned to attack of the big objects or the banks benefiting from the confrontation during the actions of the opposition parties in Baku without permission. Members of the criminal group-E.Mammmedov, R.Talibzade, A.Misirkhnaov, and S.Bayramov were detained as the result of the operations.
One submachine-gun marked "AKM", pistol marked "TT", bayonet for submachine-gun, a lot of bullets were found in E.Mammedov's apartment, 4 full magazines of submachine-guns were found in A.Misirkhanov's apartment. Criminal case has been opened in the Military Prosecutor's Office on the fact.
/APA/