The first contest of the Azerbaijan Gymnastics Federation (AGF) cup on rhythmic gymnastics took place on 13-15 May, 2005 in Baku in Heydar Aliyev Sports and Concerts complex.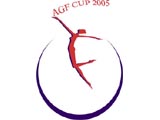 At the  tournament, having the status of the World Cup phase, participated 105 of the female gymnasts  from 24 countries, which contested in individual program and group exercises during three days.
On the first day of the tournament, contests in the individual program in exercises with skipping rope and ball were held. In final competitions in group exercises with 5 bands the first place won the Russian team with 14,825 points, the second place - the Bulgarian female gymnasts, the third- the Italian team. Our team, consisting of the most prospective girls, Vafa Husseynova, Dina Gorina, Valeriya Egay, Alina Trepina, and other took the 9-th place, being ahead of the gymnasts of Czechia and Kazachstan.
On the second day of the contest, the final of the group exercises by the formula: 3 hoops/2  maces was held, where again the experienced Russian team was leading with the result of 15,575  points, followed by the team from Italy with 15,000 and the Spain team with 14,000. Our gymnasts were the 8-th, being ahead of sportsmen from the Ukraine, Czechia and Spain.
After all finals, solemn contests closing ceremony was held, where Secretary General of the International Gymnastics Federation, Andre Geisbuchler congratulated the contests organizers.  In his speech he said, that it was his third visit to Azerbaijan for the contests and he feels himself at home here. He thanked personally the AGF President, Mehriban Aliyeva and vice-President Hassanov and expressed confidence also in the excellent organization of the upcoming rhythmic  gymnastics world championship in Baku this year.