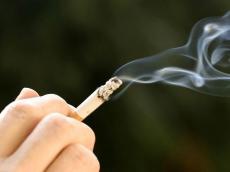 By Azernews
By Sara Israfilbayova
As many as 33.1 percent of the population aged 15 years and over are smokers in Azerbaijan, the State Statistics Committee reports.
According to household surveys in 2017, these indicators are fully attributed to men (due to the very low number of women smokers in the country, their number is not indicated).
So, 0.1 percent of smokers are persons aged 15-19 years, 26.4 percent are 20-44 years, 50 percent are 45-64 years, and 36 percent are over 65 years old.
The Committee reported that smoking women on average smoke three cigarettes a day, men - 15.2 cigarettes.
Smoking is common throughout the world, and getting people out of tobacco dependence today is becoming a priority for many states.
Smoking is recognized as a chronic disease and included in the "International Statistical Classification of Diseases and Related Health Problems". There are more than 25 diseases that develop or their course worsens under the influence of smoking.
Smoking is being prohibited as it is decreed that smokers' habits are setting a bad example to others, particularly children. Such prohibitions already exist in such countries as the U.S., Finland, Ukraine, Great Britain, Scotland, Northern Ireland, Germany, France, Belgium, Croatia, Greece, Turkey, Kazakhstan, Syria, Egypt, etc.
Azerbaijan, which also fights against smoking, adopted the Law "On Restriction of the Use of Tobacco Products" on December 1, 2017.
In accordance with the law, smoking is forbidden throughout the territory of various educational institutions, in hotels, health care facilities, rehabilitation centers, health resorts, social facilities, theaters and cinemas, at exhibitions, reading rooms, libraries, museums and other cultural institutions, in underground and overground crossings, buses (including intercity and international), taxis, metro, air, railway, sea and river transport, bus stops, railway stations, river and sea ports, airports, elevators, common areas of multi-apartment buildings, in buildings and enterprises where flammable substances are stored, on playgrounds, beaches, workplaces of organizations, enterprises, offices, regardless of organizational and legal form and ownership.
Allocation of places for smoking will be transferred to the discretion of employers. In addition, municipalities are given additional powers to take action against the use of tobacco products. They will take steps to restrict the use of tobacco products.