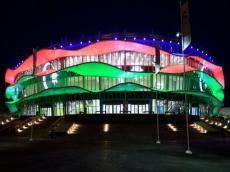 By Trend
The European championships in aerobics and rhythmic gymnastics will be held in Baku in 2019, the Azerbaijan Gymnastics Federation said in a message Aug. 21.
This decision was made by the Executive Committee of the European Union of Gymnastics.
Thus, on May 23-25, 2019, the National Gymnastics Arena will receive the strongest athletes of the continent in aerobics for the first time. Holding the European championships in aerobics, which has been developing in Azerbaijan for the last five years, will give a positive impetus to the development of local gymnasts.
Then, on May 31-June 2, Baku for the fourth time will host the European championships in the most popular kind of gymnastics - rhythmic gymnastics.
The Azerbaijan Gymnastics Federation, which has great experience in holding international events, will organize the World Cup in artistic gymnastics, trampoline and tumbling, as well as the Rhythmic Gymnastics World Cup and World Championships in 2019.
Organization of major international gymnastics competitions in Azerbaijan plays a big role in the development of sports in the country and also has a positive impact on the development of sports tourism.