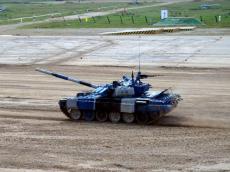 By Trend
The "Tank Biathlon" contest started within the framework of the "International Army Games-2018" competitions on July 28, the Azerbaijani Defense Ministry said.
On the first day of the contest, Azerbaijani tankmen competed with tank crews from Zimbabwe, India and the South African Republic, which are part of the same group.
According to the terms of the contest, the Azerbaijani tank crew, having destroyed the hypothetical targets with accurate fire, overcame the distance established by the route for a short period.
Thus, on the first day of the competition our tank crews, being considerably ahead of the rivals on points, became the first in their group.
It should be noted that this year tank crews from 23 countries take part in the "Tank Biathlon" contest.