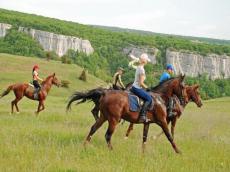 By Azernews
By Arzu Abdullayeva
Active tourism, one of the most popular directions of tourism all over the world combines adventure, ecotourism and cultural aspects of a discovery tour. The concept, implemented on land, water, and in the air is widely presented in Azerbaijan in the form of rafting, diving, kite surfing, hunting, horseback riding, hang gliding and many others.
Water recreation
Rafting
The regions of the country is highly suitable  for enjoying all kinds of water recreation including rafting, a large number of full-flowing rivers and small rivers creates excellent conditions, which enables to experience an incredible range of emotions, and colossal adrenaline rush. Miscellaneous tours are provided by many agencies.
 Diving
The coast of Absheron peninsula offers great opportunity for diving, which happens to be one of the most exciting types of outdoor recreation, especially if it takes place in the Caspian Sea, the largest lake in the world. Prior to the first dive, tourists are recommended a guided tour under the guidance of an instructor.
Kite surfing
The country, washed by the Caspian Sea, has ideal conditions for this fascinating water recreation. The kite surfing is engaged in the club Kite.az, at which the school of kite surfing- White Wind operates. For both local and foreign tourists, a practice on the Caspian coast near the village of Shuraabad in Khizi region is suggested.
 Land recreation
Hunting
Wild animals and birds represented in the fauna of the republic can be objects for hunting. However, it should be noted that hunting on the territory of the country is allowed only during the hunting season, which is opened by the decision of the Ecology and Natural Resources Ministry. About 450 licenses were granted for hunting rabbits, 860 for water birds, and the rest for hunting wild boars and the Dagestan tour. In addition, 240 licenses were granted for foreign tourists. Popular hunting regions in the country include Shamakhi, Sheki, Oguz, Gakh, Imishli, Gubin, and Ismayilli.
Horseback riding
All kinds of equestrian sport and equestrian clubs in the country are available under the jurisdiction of the Equestrian Federation of Azerbaijan Republic (EFAR), which organizes most competitions.
Horse-racing club, Gunay Equestrian Invest has a large territory for practicing professional and amateur equestrian sport, horseback riding, as well as a modern arena. Among the horse breeds of the club are Karabakh, Arab, Dilboz, Akhal-Teke, and English horses, which are walking horses, sports horses and trotters. At present, the club is the center of development of equestrian sport (jumping) in Azerbaijan.
Another horse-racing club, Elite Horse and Polo Club, provides all opportunities for horse riding for beginners and professionals. Those who wish can purchase everything necessary for equestrian sport in a specialized store at the club. Moreover, Pony Club operates for young visitors.