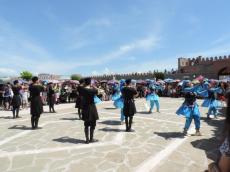 By Azernews
By Laman Ismayilova
Cherry plum is an exciting fruit that is sure to please anyone who tries it. Forests in Azerbaijan are full of wild cherry-plum trees, and the picking of plums is carried out practically throughout the year. 
It is difficult to find a person in Azerbaijan who would not like this sour green fruit called alcha.
Some varieties are especially widespread in Sheki, Gabala and Nakhchivan. Such cultivars as Xanbeyi, Shabrani, Ag (white plums) and others are much loved in many parts of Azerbaijan.
There is yet another kind of cherry plum called Goyche. This type of plum originates from Nakhchivan.
Goyche differs from varieties of cherry plum as that it remains green until fully ripened.
Goycha grows only in Nakhchivan. Cultivation of this fruit in other areas is impossible. If it does, the taste of the fruit changes completely and becomes an ordinary plum.
According to the researchers, the history of Goyche goes back to the 6th-9th centuries. It is widespread in the city of Nakhchivan, in the village of Shikhmahmud  and Sharur. But everyone knows that the best, juicy and tasty Goyche plum grows in the city of Nakhchivan.
Goyche has a high concentration of vitamins and is very useful for human body. The fruit perfectly quenches thirst and increases appetite. It grows during the early summer, from the beginning of May, to the end of June.
It helps to renew blood, an excellent remedy for hypertension. In addition, pregnant women are also recommended this cherry plum.
Local, foreign visitors flock to Nakhchivan last weekend, as the third Goyche Festival opened its door for the public to the wonderful world of food.
The two-days event took place in Nakhchivangala Historical and Architectural Museum Complex on May 19-20.
More than 200 farmers and gardeners presented their products at the festival. Some of them went for sale, the other - for the creation of installations. Guests were presented an interesting entertainment program. 
The event aroused great interest among  local residents and foreign tourists. The gala concert was held at the Nakhchivan State Philharmonic Society on May 20.
As part of the event, the best gardener was awarded with special prize.