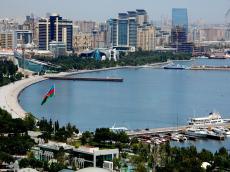 By Azernews
By Rashid Shirinov
As many as 629,400 foreigners from 151 countries and stateless persons arrived in Azerbaijan in the first quarter of 2018, reads the Export Review of the country's Center for Economic Reforms Analysis and Communication.
This is 12.4 percent more compared to the same period last year.
The review also notes that the amount of transactions carried out by foreigners with bank cards in March made up $62.05 million. This indicator has increased by 16 percent compared to March 2017.
In general, the amount of such transactions during January-March 2018 made up $174.02 million, thus increasing by 18 percent compared to the same period of 2017.
The number of foreign nationals who arrived in Azerbaijan last year increased by 449,215 people or 20 percent compared to 2016, hitting the figure of 2,691,998 people.
Thanks to the wonderful climate of Azerbaijan, its culture, cuisine, nature, attractions, and diversity, more and more tourists visit the country every year. Also, hospitality of Azerbaijani people, the capital with its super modern and ancient buildings draw the attention of all tourists visiting this South Caucasian country. The tourists mainly visit the most popular destinations – Baku, Gabala, Guba and many other cities.
As for the tourism infrastructure, today Azerbaijan can accommodate about 40,000 tourists in its 575 hotels, which include a series of luxury ones – Excelsior, Hilton, Four Seasons, Fairmont, JW Marriott – as well as several budget hotels for cost-conscious travelers. Moreover, 25 hostels and 92 apartments for tourists operate in Baku.