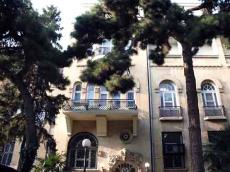 By  Trend
The U.S. Embassy has brought eco-tourism expert Professor Paige Viren from the East Carolina University to Azerbaijan to help Azerbaijanis develop the country's eco-tourism sector.
During her visit from April 2-8 she will meet with local businesses, government officials, student groups and tourism operators to share her expertise and best practices from the United States' multi-billion dollar ecotourism sector.
Ms. Viren's trip will support Azerbaijan's environmental efforts and eco-tourism startups. Eco-tourism in Azerbaijan has massive potential: it is a key part of economic diversification, and empowers local residents in the regions as well as young educated Azerbaijanis, to participate in Azerbaijan's economy.
Moreover, eco-tourism promotes environmental conservation, pollution reduction, and responsible stewardship of the world's natural resources.
Dr. Viren brings with her over 12 years of travel industry experience. Her area of expertise is consumer behavior and tourism, with a focus on adventure travel and sustainable community-based tourism in rural areas.