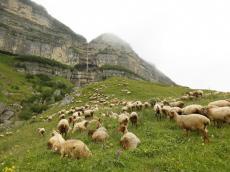 By Azernews
By Laman Ismayilova
Azerbaijan has long been known for its breathtaking scenery, delicious cuisine, and the majestic beauty of the Caspian Sea.
The best way for visitors, who are seeking an authentic experience, getting to know the locals and enjoying the awe-inspiring nature that the country is known for, should seek out the tiny villages, nestled high in the mountains, and its picturesque valleys.
The valleys of the country create a whimsical sight for visitors. They are so colorful that definitely are must-see for every photographer. As if someone had spilled paint instead of planting flowers, these fields seem like a color palette.
So, what are you waiting for? Start planning your trip to the Land of Fire!
Shah Yaylag
The valley 'Shah Yaylag' is located close to the Khinalig village, located 2,000 meters above the sea level.
Khinalig is famous for its unique language, peculiar customs and traditions. The wonderful village, nestled in the mountains strikes with its unique architecture.
The picturesque village, included into UNESCO's List of World Heritage is often called the museum under the open sky.
Shahnabat Yaylag
The Shahnabat valley is near the Laza settlement, on the northeast spurs of the Main Caucasian Ridge, at bottom of a high mountainous plateau "Shah Yaylag". Lovers of horseback riding will enjoy a horseback riding tour here.
Several waterfalls are visible on the road from Gusar town to the Laza village full with trees and rocky slopes. 
Khan Yaylag
The valley Khan Yaylag is inhabited during the summer months. In the ancient times, the khan (ruler) of Sheki region together with his family and servants was resting here.
Ivanovka Yaylag
The Ismayilli region is home to the most picturesque valley of the country- Ivanovka Yaylag. The valley lies between the Goychay-Davabatan rivers, some 500- 800 meters above sea level.
With over 3,000 inhabitants, the Ivanovka village is situated 200 kilometers away from the capital city in the northern Ismayilli region. Being dispossessed from their homeland, the hardworking Molokans did not lose courage and quickly got accustomed to their new location.
Khoshbulag Yaylag
Dashkesan region is famous for its favorable nature. The Khoshbulag valley, is visited by many people suffering from asthma and bronchitis. They say the climate here has a beneficial effect on such patients. There are about 50 springs in Khoshbulag.