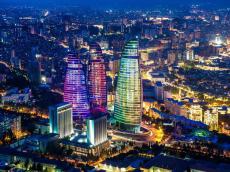 By Azernews
By Amina Nazarli
Do you feel safe walking alone at night in the city or area where you live?
The answer to that question, along with others that are part of Gallup's Law and Order Index, reveals more than a personal reflection on safety.
The American company Gallup surveyed 136,000 residents in more than 135 countries around the world regarding the level of crime in their areas of residence and the reliability of local law enforcement agencies.
Azerbaijani citizens feel themselves one of the most protected among other CIS countries, according to the data.
Singapore ranked first in the world with 97 points, while Uzbekistan ranks second with 95 points, according to the survey.
Azerbaijan and Georgia ranked third among the CIS countries with an index of 87 points each.
The second place among the CIS countries went to Turkmenistan with an index of 91 points (4th place in the world).
While terrorist attacks and crime sprees are what make global headlines, this report dives into people's personal sense of safety in their community and the relationship between these feelings and a nation's economic and social development, Gallup said.
This report revealed the answers to the following questions: In the city or area where you live, do you have confidence in the local police force? Do you feel safe walking alone at night in the city or area where you live? Within the last 12 months, have you had money or property stolen from you or another household member? Within the past 12 months, have you been assaulted or mugged?
Azerbaijan, the largest nation of the South Caucasus, has been repeatedly recognized as the most secure and stable country among Eastern Europe and the CIS countries.
In February, Azerbaijan entered the Top 20 safest countries in the world in terms of crime rate, according to the website Numbeo, which is the world's largest statistical database on cities and countries around the world.
The ranking showed that the risk to get subjected to physical attack because of a person's skin color, ethnicity or religion is very low in Azerbaijan. In addition, there is a low probability of getting robbed, and the level of crime is also low.
Equally remarkable is that the capital Baku is very safe both in the daytime and at night.
Among the most significant factors driving high levels of safety include the educational levels of population, levels of relative social welfare and wealth, strong law enforcement agencies and effective criminal justice systems.