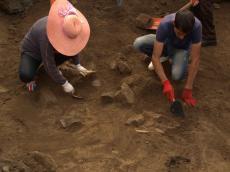 By Azernews
By Amina Nazarli
Scientists discovered ancient settlements in the southern region of Azerbaijan Yardimli.
Institute of Archeology and Ethnography of the ANAS discovered new monuments during the archaeological excavations.

Head of the expedition PhD. Anar Agalarzade told Trend that the work was carried out in graveyard monuments, stone box graves and mounds in Saribulag and Chichekli pastures located 2,000 meters above the sea level.

"During the excavations in mounds scientists found a large number of pottery fragments, labor tools, heat and animal bones. We suppose that these burial monuments are of a ritual character and belong to late Bronze – early Iron Ages.

The scientists also revealed two types of mounds such as stone-covered mounds and chrome plated surrounded mounds.

"All these diversities are important factors to study culture and funeral rites of people leading semi-nomadic way of life, who lived here in the II millennium-I millennium BC.
Agalarzade said that coal residues and animal bones withdrawn from the tomb monuments will be send to relevant laboratories for determining their history and functional purpose.
The head of the expedition also said that they found ancient dwelling places in Elbeyi, Jalalyurdu, Shahnishan and Darakechmez pastures.

"Today, there are modern settlements in these places and this indicates that Azerbaijani people have kept the traditions and principles of economic life for thousands of years.
Yardimli region is rich with ancient archaeologist findings. Earlier in 2014 archaeologists found more than 30 burial mounds and tombs dating back to II-I centuries BC in Yardimli's Alar village.