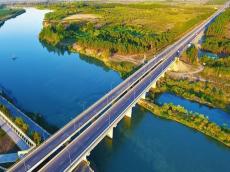 By Azernews
By Amina Nazarli
The World Economic Forum has assessed the Azerbaijani roads as the most qualitative in the CIS area.   
The ranking of the international organization on quality of roads put Azerbaijan 50th among the world countries.

Neighboring Russia was ranked 123rd, Georgia 78th and Armenia 81st. Among Central Asian countries Tajikistan was placed 70th. Kazakhstan took 108th and Kyrgyzstan 131st places.
The rating of the best roads went to countries such as France, the UAE, Portuguese and Oman. The countries with worth roads are Moldova, Mozambique, Ukraine, Mauritania, Paraguay, Congo and Madagascar.   
The road infrastructure is not only important for the functioning of the economy and wellbeing of population, but also serves development of the regional cooperation.
The road infrastructure modernization is among the main priorities of the Azerbaijani government. Huge investments are regularly made for the improvement of highways in the country.
Many who visit the country are satisfied with the quality of the country's roads, in general, and in Baku, in particular.
Report for January-September 2016 of Azeravtoyol Company said that a total of 542.7 kilometers of roads were built, repaired and reconstructed throughout the country's territory in January-September 2016.
The work on road improvement also included construction of 12 new road bridges and repair of five bridges.
More than 30 roads, avenues and streets with a total length of 63.2 kilometers were reconstructed and repaired in Baku.
All these works were carried out in accordance with the State Programs on Socio-Economic Development of regions of Azerbaijan for 2014-2018 and of Baku City and Its Settlements in 2014-2016, approved by President Ilham Aliyev.