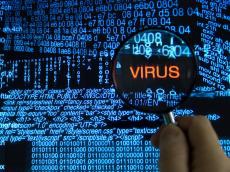 By Azernews
By Sara Israfilbayova
Every year, millions of computers around the world face a risk of infection through Internet. This problem did not bypass Azerbaijan as well.
Kaspersky Lab's "Development of Information Threats" public review for the first quarter of 2017 reported that the risk of infection via Internet affected 29.95 percent of computers in Azerbaijan.
The number of infected computers in the country decreased by 21.2 percent in the 1Q17, compared to the beginning of the year.
Azerbaijan took the sixth place among 20 countries that were most at risk of infection after Algeria, Belarus, Tunisia, Ukraine and Kazakhstan.
The top twenty countries include Albania, Bangladesh, Qatar and Armenia, Greece, Moldova, Venezuela, Kyrgyzstan, Vietnam, Russia, Morocco, Sri Lanka, Brazil and Serbia.
On average, 20.05 percent of Internet users' in the world were at least once attacked by a web-based Malware class attack [Malicious Software - any software used to disrupt computer or mobile operations, gather sensitive information, gain access to private computer systems, or display unwanted advertising].
World's the safest Internet surfing countries are  Luxembourg (14.4 percent), Germany (13.9 percent), Norway (13.83 percent), South Africa (12.5 percent), the United States (10.56 percent), Uganda (10.29 per cent) and Japan (9.18 per cent).
Kaspersky Lab's solutions repulsed more than 479.5 million attacks conducted from Internet resources located in 190 countries in the first quarter of 2017.
The history of computer viruses begins from November 3, 1983, when American scientist Fred Cohen in his thesis on the study of self-replicating computer programs, first introduced the term "computer virus".
Kaspersky Lab is a Russian multinational cybersecurity and anti-virus provider headquartered in Moscow, Russia and operated by a holding company in the United Kingdom. It was founded in 1997 by Eugene Kaspersky, who is currently the CEO. Kaspersky Lab develops and sells antivirus, internet security, password management, endpoint security, and other cybersecurity products and services.
Kaspersky Lab's products for protection of mobile devices found more than 1.3 million malicious installation packages, more than 32,000 installation packages of mobile banking Trojans and over 218,000 installation packages of mobile Trojan Winlocks.