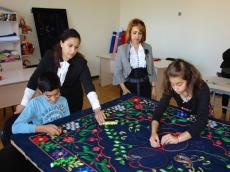 By Azernews
By Rashid Shirinov
International Day of Families was celebrated in the integrated boarding school No 11 in Bilgah settlement of Baku.
The event, organized by the Education Ministry, was attended by the representatives of the ministry and the State Committee for Family, Women and Children Affairs, as well as teacher stuff and pupils.
Director of the school Gulnara Abdullayeva, addressing the event, mentioned that the boarding school was reopened after reconstruction on March 1.
Abdullayeva also noted that the Azerbaijani government created necessary conditions for high-level education of students.
At the event, children together with students of the Arts College under the Azerbaijan State Academy of Fine Arts painted pictures on asphalt, which were dedicated to the 4th Islamic Solidarity Games Baku 2017. In addition, pupils from the sanatorium type boarding school No 10, integrated boarding school No 11, and boarding school No 1 for children deprived of parental care planted flowers in the yard of the school.
The event also marked the birthdays of pupils from all three boarding schools, who were born in May.
A total of 796 students study in general education classes, while 163 pupils attend special classes in the school.