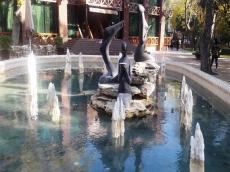 By Azernews
By Laman Ismayilova
Among the lengthy list of picturesque attractions in the city who can resist the temptation of a walk through Khagani Park? Whether you're an art enthusiast or a devoted dog owner, there's a slice of nature that fits your lifestyle.
Located on the intersection of Khagani, Gogol, Rasul Rza, Uzeyir Hajibeyov streets, today Khagani Park is one of the most favorite leisure places of Baku people.
A beautiful family park with many features like children's playground is always crowded.
Young couples sitting on benches, children walking around, future rock stars playing guitar make this place so wonderful and familiar.
Huge lawn area provides a pleasant place to sit and relax.
Entering the park, you immediately feel a welcoming atmosphere. Although it is located on the intersection of busy streets one can feel the unity with nature here.
Emerald green lawns take you to children's attractions, best place to gather with families.
This is a beautiful place to sit and relax. In front of the fountain there is a large cafe where you can eat, drink hot tea  with all kinds of jams. You can go to the shops, filling every corner of the streets.
If you like to dress up, you can go shopping. Neighboring streets feature some of the best fashion shops in the city.
Despite the change of eras, city's residents still call this place "Molokan garden", the name that has its own interesting history.
The first official name of the park was "Marinski", named after Maria, the wife of Tsar Alexander, but later it was named "Molokan garden". In Soviet period, the park was renamed firstly "January 9", then "Hashim Aliyev".
The basis of the park's architectural-landscape composition is "Three Beauties" statue group and curved-line shaped pool.
The sculptor has used natural stones for the pedestal. In 2005 capital reconstruction works were carried out here, new plants planted, and amazing attractions were installed for children in the park. The park was thoroughly reconstructed anew in 2011, but the original design of the park was preserved.
Visit this breath-taking destination and live out your own travel legend!