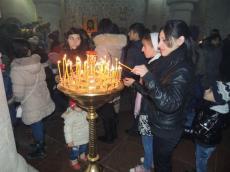 By  Azertac 
Udins, the Orthodox Christian community in the village of Nij, Azerbaijan`s Gabala district, have celebrated Christmas. The celebration took place at an ancient Albanian Church called Cotari. In his remarks, head of the Alban-Udin religious community, priest of the church hailed the conditions created by the Azerbaijani government for representatives of all religions, including Orthodox Christians.
Local residents, who addressed the ceremony, said they have never encountered any discrimination or intolerance.
They praised the renovation of the Cotari church as a beautiful illustration of tolerance in Azerbaijan.
There are three churches and two mosques in Nij, which is home to 3,700 Udins. There are only 10,000 Udin people all over the world. Udins have preserved their language, religion and traditions for 2,500 years.