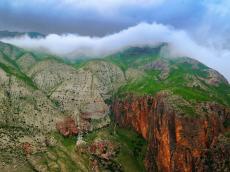 By Azernews
By Laman Ismayilova
The Land of Fire, a country with numerous national parks and wildlife sanctuaries, is a piece of paradise on earth.
One of the main tourist hubs in Azerbaijan is the Shahdag National Park located in the north of the country. With its extraordinary beauty, the national park is a perfect destination for tourists throughout the year.
The Shahdag National Park covers a territory of 115,895 ha, including five regions of the country. The Park was established in December 2006 to preserver mountain forests and pasture ecosystems located in high mountainous areas.
The height of the National Park territory is the main reason behind its climatic diversity, fertility of flora and richness of animal life. The landscape of the territory is fantastic and the mountains attract not only tourists, but also sportsmen to the highest peaks of the country, Bazarduzu Mountain of 4,466 meters above sea level.
The major types of trees are Caucasian Oak, Caucasian, European Hornbeam, Oriental Hornbeam, Oriental Beech, Silver Birch, Birch, Common Yew, White Willow, Common Walnut, Wild Cherry etc.
The national park is home to the rare East Caucasian tur, a mountain dwelling goat antelope found only in the eastern half of the Caucasus Mountains. Other large mammals found here are the Caucasian, Bezoar ibex, domestic goat, Caucasian lynx, Syrian brown bear, wild boar, Indian wolf, common jackal, common jungle cat, red fox, roe deer and others.