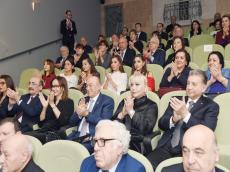 By  Azertac 
Marionette performance of "Leyli and Majnun" mugham opera by well-known Azerbaijani composer Uzeyir Hajibeyli was demonstrated at the Marionette Theatre.
Azerbaijan`s first lady Mehriban Aliyeva, president of the Heydar Aliyev Foundation Mehriban Aliyeva, vice-president of the Foundation Leyla Aliyeva and Arzu Aliyeva watched the performance.
Marionette Theatre was built in neoclassical style in 1880 using antique images and motives. It has operated under the Icherisheher State Historical-Architectural Reserve Administration since 2013.
Complex measures were taken to expand the activities of the theatre through support of President of the Heydar Aliyev Foundation, Azerbaijan's first lady Mehriban Aliyeva.
Marionette Theatre was first established in the mid-1980s in Azerbaijan at the initiative of director and artist Tarlan Gorchu.
Arshin Mal Alan (The Cloth Peddler) operetta, and Leyli and Majnun opera are major highlights of the repertoire of Marionette Theatre.
The theatre successfully premiered Arshin Mal Alan in France in 1990, then traveling to a number of other countries. Today, the theatre's tour map includes Germany, the U.S., Russia, Poland, Switzerland.
The opera Leyli and Majnun became a founder of the unique new genre in musical culture of the world, which synthesizes oriental and European musical forms, resembling a dialogue of two musical cultures of East and West.
This opera has been shown more than 20,000 times at the Azerbaijan State Academic Opera and Ballet Theater as well as in other countries such as Russia, Ukraine, Iran, Turkey, Georgia, Uzbekistan and Turkmenistan.