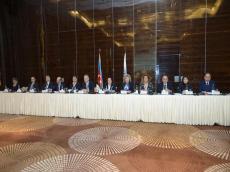 By Azernews
By Amina Nazarli
A conference kicked off in Baku on December 28 to mark the 15th anniversary of the establishment of the Ombudsman institution in Azerbaijan.
Azerbaijan's Deputy Prime Minister, Chairman of the State Committee for Refugee and IDP Affairs Ali Hasanov, President of Azerbaijan National Academy of Sciences Akif Alizade, First Deputy Chair of the Azerbaijani Parliament Ziyafat Asgarov, Minister of Culture and Tourism Abulfas Garayev, Azerbaijan`s Commissioner for Human Rights (Ombudsman) Elmira Suleymanova, Chairperson of the State Committee for Family, Women and Children`s Affairs Hijran Huseynova, chairman of Copyright Agency Kamran Imanov, chairman of the State Statistics Committee Tahir Budagov, Russian Commissioner for Human Rights Tatyana Moskalkova, rector of Baku State University Abel Maharramov, president of the Turkic Culture and Heritage Fund Gunay Efendiyeva, foreign ambassadors in Azerbaijan, parliamentarians, and heads of religious communities take part in the event.
In her remarks, Elmira Suleymanova highlighted what has been done in Azerbaijan to protect human rights and freedoms over the past years.
Ali Hasanov, in turn, stressed that Azerbaijan attaches great importance to the protection of human rights.
He said the Azerbaijani government`s policy towards ethnic and religious minorities is recognized by international organizations.

"The Azerbaijani model of multiculturalism is set as an example to other countries," Hasanov added.
He further mentioned that creating Ombudsman institution, Azerbaijan has demonstrated to the world what great importance it attaches to human rights.
Hasanov stressed that the Ombudsman did a great job in Azerbaijan in the sphere of protection of human rights, adequately represents the country in the international arena, adding that Azerbaijan is an example to the world in the area of multiculturalism.