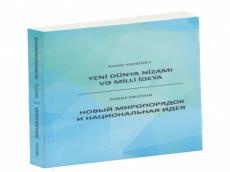 By  Azertac 
A new book by academician Ramiz Mehdiyev, head of the Presidential Administration of Azerbaijan, titled "New world order and national idea" has been published.
The book includes Ramiz Mehdiyev's two works which were published in local media in 2002 and 2003.
In his book, Ramiz Mehdiyev says that Azerbaijan has gained global influence thanks to President Ilham Aliyev's wise and consistent policy.
Academician Ramiz Mehdiyev highlights also the leadership, charisma, wisdom and other rare qualities which were typical of Heydar Aliyev's personality, as well as the national leader's mission of emancipation, formation of national idea and ideology, his role in national state building and other invaluable services.
The book is available in Azerbaijani and Russian versions.