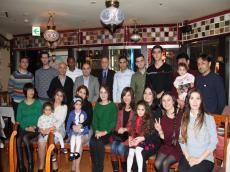 By  Azertac 
Azerbaijan-Japan Friendship Society organized a reception on occasion of December 31 – The Day of Solidarity of World Azerbaijanis.
The event brought together employees of Azerbaijan`s Embassy to Japan, members of Azerbaijani Diaspora, and local public.
Chairman of the Society Khalil Kalantar, Counsellor of the Embassy Farid Talibov congratulated the event participants on the Day of Solidarity of World Azerbaijanis and spoke of the importance of this holiday, which was founded at the initiative of national leader Heydar Aliyev in 1991. They noted that the Day of Solidarity represents the unity of the Azerbaijani people and fully justifies itself as an important step towards the protection of the compatriots living in different countries of the world. Emphasizing the increasing influence of Azerbaijan in the international arena thanks to the activity of the national leader's worthy successor President Ilham Aliyev, the speakers presented the results of policies aimed at solving the problems of compatriots living abroad.
The event continued with performing Azerbaijan`s national dances and music.